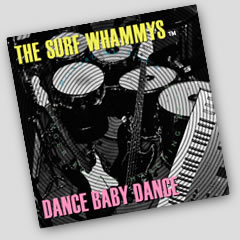 DANCE BABY DANCE . . .
This is the first "pattern" song on the album, and it is based on a very carefully designed drum and bass guitar pattern done in the style of the great pattern songs made famous by Cream in the late 1960s ("Sunshine Of Your Love", "Disraeli Gears"). Additional inspiration for "Dance Baby Dance" comes from some of the moodier songs recorded by the Doors during their "Strange Days" period.
Another interesting bit of information about the structure of "Dance Baby Dance" is that in addition to having a significantly longer and considerably more elaborate pattern, it features what one might call a "stadium lead guitar" solo in the style more typical of the mid-1970s and early 1980s, with a few flavors being reminiscent of Pink Floyd (David Gilmour) and Peter Frampton style guitar solos, which maps to a very specific type of reverberation and echo, as well as a guitar string picking and bending style that gently pushes notes into the echo and then allows the notes to sustain and to linger within the sonic envelope of the reverberation and echo.
The Fender® Stratocaster® lead guitar used on this song is played through a DigiTech® Whammy® pedal to add harmonic overtones and eventually is fed to a Fulltone® Tube Tape Echo® unit with a long delay time and a higher than usual recirculation setting. Additional effects pedals are used, as well as onboard digital effects, since the "stadium lead guitar" sound essentially comes from vast reverberation and echo, which is the result of a virtual festival of recirculated delays of the same original signal over and over with each distinct delay having a different interval respective to time.
Continuing with the lead guitar sound heard in "Dance Baby Dance", one of the more fascinating things the DigiTech Whammy pedal does is to create harmonic overtones that sound similar to a "talk box" and add a synthesized tonal quality to the guitar notes. By first running the natural guitar signal through a Dunlop® Crybaby pedal, the general tonal qualities are adjusted in a way that changes what the Whammy pedal does. Following this signal processing by running the sound through a BBE® Crusher overdriver adds crunch and sustain, which then establishes the foundation for feeding the various reverberation and echo effects with the overall result that a single note virtually starts playing itself once you launch it into the illusion.
[1st Verse]
Atmosphere is running hot,
Some are doing, some are not . . .
Kinda like the way you look . . .
[Chorus]
Dance baby dance,
Give love a chance . . .
[2nd Verse]
Rock and roll, jump and stroll . . .
Forget the dare, 'cause you don't care . . .
Dance baby dance . . .
[Chorus]
Dance baby dance,
Give love a chance . . .
[Lead Guitar]
Click on "The Surf Whammys: Dreams" to read the lyrics for "Dreams".